There is no shortage of presentation templates available for purchase or download. We take a look at where to find some of the better examples.
Why are presentation templates important?
Great presentations are all about getting your message across to your audience.
We've talked about how to create a successful presentation before. In this article we discuss how consistency is important and how it can enhance your message and make it easier for your audience to understand.
You want to have a suitable font and font size for ease of reading. Colours need to compliment and not distract. That's where great presentation templates come in. All of this thinking has been done for you so you can concentrate on the content.
Task-specific and multi-purpose templates
Presentation templates come in different flavours, to align with your presentation needs.
The template might be task-specific, where the slides all focus on something very specific. For example, a pitch deck template for a new business idea or product. A reporting template, rich in charts and graphs for your project status updates. Finance oriented slides for presenting your company's annual report. These templates are typically smaller, concentrating on a specific type of presentation.
At the other end of the spectrum are the big multi-purpose templates. Here you will find a vast plethora of slide templates into which you can pick and choose to meet your needs. These templates will run to many hundred slides. Their size can be intimidating but they will serve you well across a whole range of presentations.
Templates and templates
Just a quick note about PowerPoint templates. Microsoft allow PowerPoint files to be saved as actual template (POTX) files. These are true literal templates and can only be used to create presentations from them.
However, what are called templates on many of the sites listed below are in fact presentation (PPTX) files. Think of them like a blueprint, an example or a starter point. When you use these it's normal to copy and rename them as you require.
Of course, no matter what the files are called, or what file types are provided, we would always recommend keeping a copy of whatever you buy or download in a safe place before you start using it.
Graphic River (Envato Market)
Graphic River is part of the Envato Market stable offering a range of graphic items, of which presentation templates form a major part. At the time of writing there are more than 26,000 templates available for PowerPoint, Keynote and Google Slides.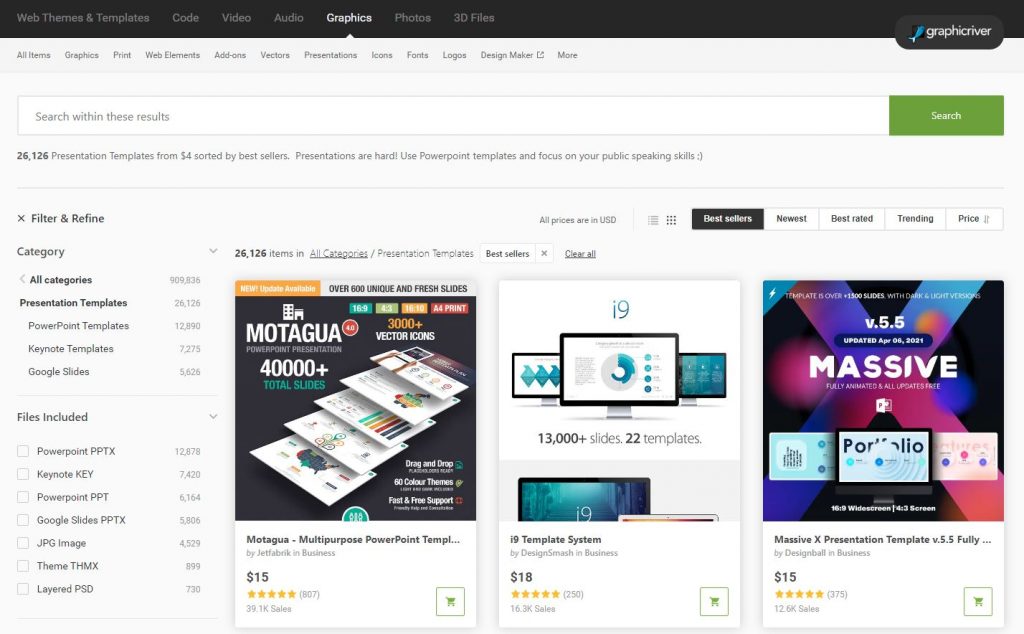 You will find a rich variety of templates, both for specific use and multi-purpose. This variety is the biggest strength of Graphic River. In theory you should find exactly what you are looking for.
Unfortunately this rich variety is also one of the weaknesses of Graphic River. Searching for a suitable template is not easy; they offer comprehensive keyword searching, however you are reliant on template authors using these exact keywords when they submit their templates. Envato also like to promote best sellers so you do tend to find the same templates heavily promoted each week.
To give you some examples, take a look at the Motagua and Massive X multi-purpose templates. Alternatively the Infographics Bundle contains a nice selection of fully automated slides.
Envato Elements
For an alternative model to Graphic River, Envato Elements instead gives you a subscription-based account with access to millions of assets. Of course, this is much more than just presentation templates and you'll find a whole host of graphic templates, audio and photos.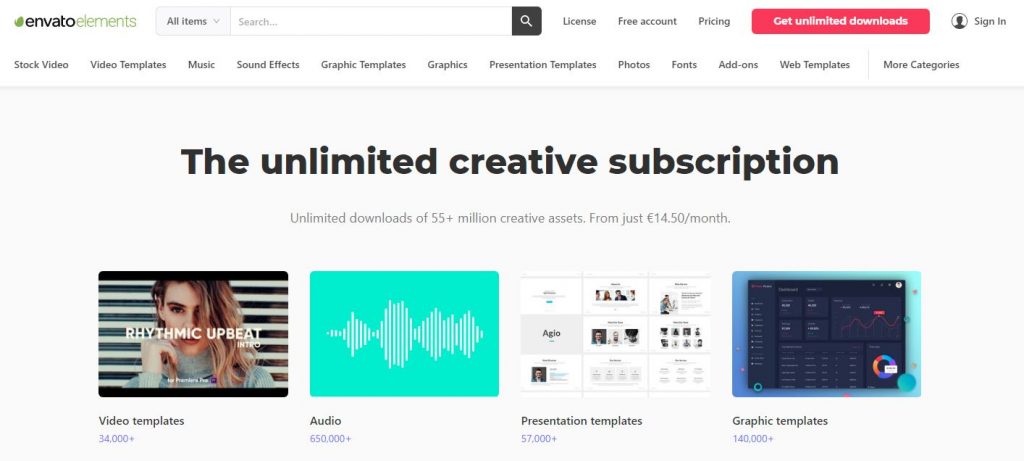 Whilst there are millions of other assets, the available choice of presentation templates is still quite comprehensive. Multi-purpose templates are not on the same scale as those available on Graphic River, but if you are also interested in the other assets available then it might be right for you.
SlideModel.com
For PowerPoint users, SlideModel.com has an excellent set of professional templates available. They only focus on PowerPoint but there are currently more than 30,000 templates available. Again, it's subscription-based model where the number of templates you can download depends on your package.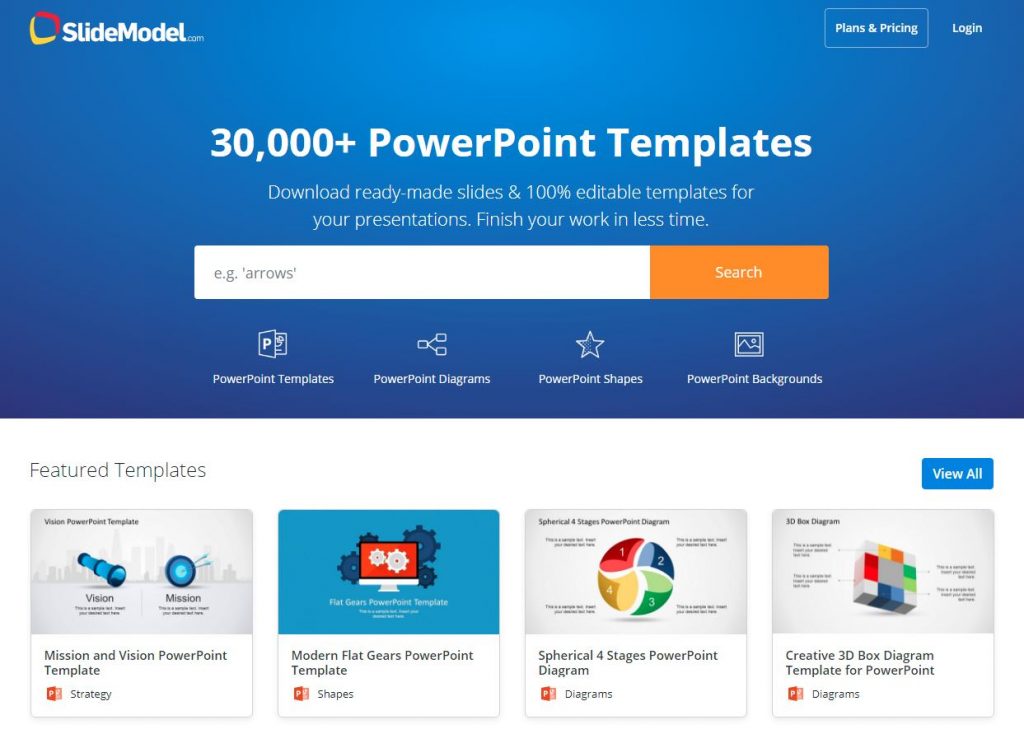 The quality of templates is really high. It's also easy to search with keywords and categories making it simple to find exactly what you are looking for. Something we did notice is that whilst there are a lot templates, each template is very small, often just with a handful of slides. Keep this in mind as building a big presentation from these fragments could give you consistency issues. You'll also have to download a larger number of files.
HiSlide
HiSlide provides a nice mixture of PowerPoint, Keynote and Google Slides templates, both available for purchase via a subscription model, or for free download.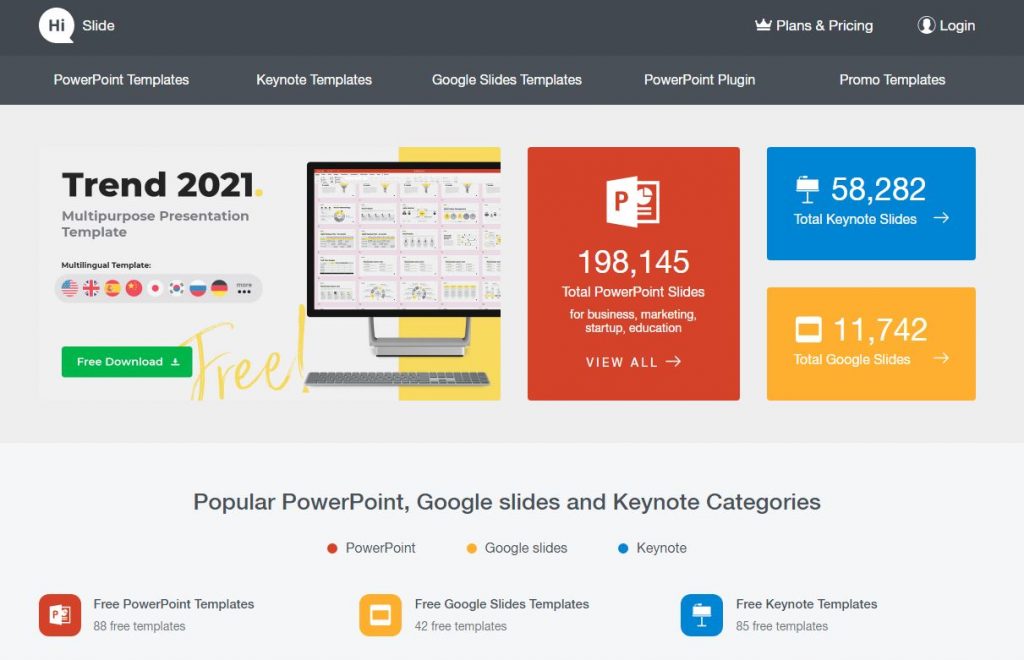 Searching is a breeze with loads of categories to narrow down and find what you need. We also like that they use different colours for PowerPoint, Keynote and Google Slides making it obvious which is which.
fppt.com
Another option only offering PowerPoint templates is Free PowerPoint Templates.com.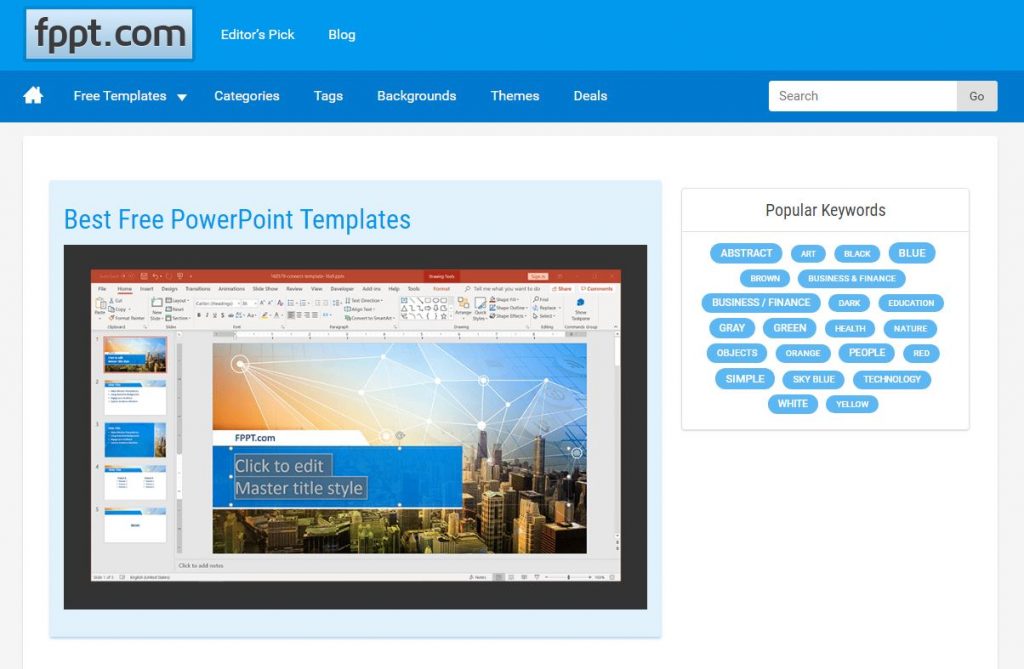 There's not nearly the same variety of templates available as with some of the other sites, and it's only for PowerPoint, but everything is free. The site is nice to browse and the comprehensive tag filtering makes it simple to find what you are looking for.
aumlette.com
We couldn't have an article about great presentation templates without mentioning our own. Hop over to our products page and you'll find some fantastic templates for PowerPoint and Keynote.

You will find a range of multi-purpose templates, our best-selling project status template and a pitch deck template. Everything is built with fantastic quality and attention to detail. It's all fully editable and documented. And, of course, it's all backed up by our fast and friendly help and support.